Our Lady of Fatima
Redvers
St. Maurice
Bellegarde
St. Anthony
Storthoaks
---
Welcome To Our Website.
Our new website is easy to use and is compatible with new devices like smart phones and tablets.
Our "Home" page provides a quick overview of what's happening in our Parish without requiring you to "dig" for our most current information.
Our Mass Schedule for the upcoming 7 days is now available on every page of our website.
Parish events have been organized into our new Events Calendar.
You will also find information about our Faith in our new Ministries, Education, and Sacraments sections.
Pray the daily Mass by clicking on the icon below.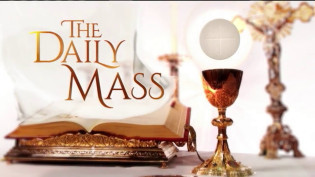 Pray with the Church's daily Scriptures by clicking on the icon below.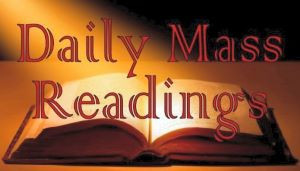 Mass Schedule
| | |
| --- | --- |
| Tue | 9:00am |
| Wed | 9:00am |
| Thu | 9:00am |
| Fri | 9:30am |
| Sat | No Mass |
| Sun | 10:45am |
| Mon | 9:00am |
| | |
| --- | --- |
| Tue | No Mass |
| Wed | No Mass |
| Thu | No Mass |
| Fri | No Mass |
| Sat | No Mass |
| Sun | 9:00am |
| Mon | No Mass |
| | |
| --- | --- |
| Tue | No Mass |
| Wed | No Mass |
| Thu | No Mass |
| Fri | No Mass |
| Sat | 7:00pm |
| Sun | No Mass |
| Mon | No Mass |
All Services
Parish Bulletin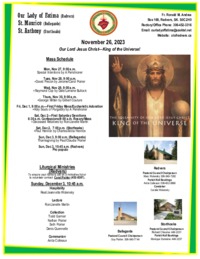 Nov 24, 2023
Christ the King of the Universe-November 26, 2023
Upcoming Events
Dec. 5, 2023

7:00pm - 8:00pm

Our Lady of Fatima

Sacrament Of Reconciliation-Penance

Dec. 5, 2023

7:00pm - 8:00pm
Our Lady of Fatima

Dec. 6, 2023

7:00pm - 9:00pm

St. Maurice

Pastoral Council Meeting

Dec. 6, 2023

7:00pm - 9:00pm
St. Maurice

Dec. 7, 2023

7:00pm - 8:00pm

Our Lady of Fatima

Sacrament Of Reconciliation-Penance

Dec. 7, 2023

7:00pm - 8:00pm
Our Lady of Fatima
More Events